I'm about to go to a graduation party in a few minutes, but before I go, I just wanted to make a post about the camera I will be bringing tonight:
The Fiesta Message Camera.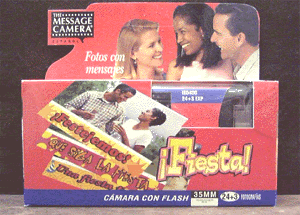 The Message Cameras are disposable cameras that are loaded with film that has little banners printed on the bottom of each frame. There are all kinds of themes like Bachelorette Party, Baby's 1st Birthday, The Bible, Halloween, etc.

Here's an example of a photo taken with the Bible Message Camera: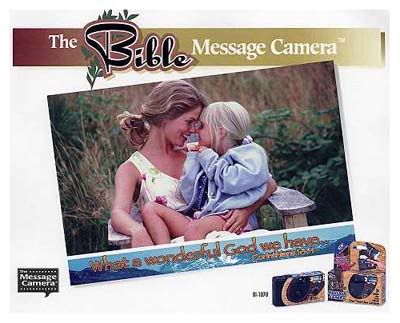 Lmao.

Some of the messages on my Fiesta camera are: La Vida Es Una Fiesta, ¡Esto Es Una Fiesta!, Una Fiesta Fabulosa, and Fiesta, Fiesta, Fiesta.

Unfortunately, I don't speak Spanish like Remy does, but it's still pretty awesome to take pictures with a camera that produces photos with messages printed on them.

Aaaand these cameras are retro and supercool and super hard to find so it's hip...